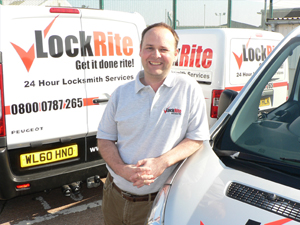 Alan Hickman
LockRite Franchise Review
Trading For 9 years 6 months 27 days
"I started trading with Lockrite in April 2012. It was clearly apparent when joining, that Lockrite was a forward thinking company with the right ingredients to support a successful business. This was echoed by existing Lockrite Locksmiths enjoying their own success and development from rural Devon to inner London the support package was working all across the country and the formula was right.
Already from an engineering background, it was fairly easy to pick up and learn the fundamentals required to be a locksmith but the tricky particulars and secrets to this profession were diligently delivered during the month long training program at Exeter's head office. Ongoing support providing skills development and onsite technical input has been invaluable and always available.
The franchise concept has been carefully formulated by Lockrite. The right balance is in place to build a successful network with sound procedures, quality ethics and commitment to customer satisfaction and value. As individuals, we take pride in our customer relationships and are dedicated to leaving customers satisfied, safe and secure with that peace of mind that goes with a job well done.
Locksmith work is enormously varied, requiring broad ranging capabilities from unlocking the most secure of locks and designing and installing complex control systems to getting locked out customers in promptly without further distress or making good after a break in and make secure again or provide reassurance that all is safe.
Attending callouts at 3am may not be to everyone's liking but the variety and satisfaction that goes with the job makes up for a few disturbed nights and with almost a hundred other Lockrite Locksmiths now covering the country we always have a backup plan not far away to help out if required."